How Does Paintballing Work? Why Everyone Should Try Paintball!
Paintball is a game in which players shoot each other with paintballs. The game of paintball is enjoyed by lots of people across the world. The game originated in 1976 when it was used as a training exercise for military units. Today, the game is played recreationally for fun, to release stress, and as a team building exercise.
Whether it's your first time playing or thinking about having a paintball birthday party or corporate event, the more knowledge you can acquire about the sport, the better time you will have.
Paintball is typically a game played by two teams – the attackers and the defenders. These are usually divided by colour (red/blue). The goal of the game is to eliminate the other team by shooting them with paintballs and achieving the game goal. Each player has their own equipment, including a gun, protective clothing, and goggles.
The guns used for paintball are called paintball markers or just markers. The two most common types of marker are CO2 powered or air powered guns. The CO2 powered guns use carbon dioxide gas to power them while air-powered guns use compressed air from tanks that you need to refill after every few shots.
Paintball is a sport that requires players to wear protective clothing and gear. There are many different types of paintball equipment to choose from, so it can be hard to know which one is best for you.
What Are The Rules Of Paintball?
The rules of play in a paintball game are quite simple to understand:
– The players use paintball guns to shoot the other team and eliminate them.
– Players can't use their hands or feet to touch the other player.
– The players can only shoot the opponent from a distance of 10 feet away.
– If you get shot, raise your hand as you're out and have to leave the game for a few minutes before coming back into play. A marshall will give you a signal to rejoin the action.
Every paintball course may have slightly different rules, so pay attention to the marshalls when they describe the game rules.
The two most popular paintballing games are capture the flag and elimination.
Capture the flag is a game in which two teams must take the opponent's flag that is on their home base, and bring it to their own. The first team to capture their opponent's flag, or the team who has the most points after time is up, wins. We have a variety of courses and game types on our course.
How Do I Get Better At Paintball?
The first thing to know about paintball games is that it is a game of speed. Players should always try to move as fast as possible, and they should use their speed to their advantage. They should also try to anticipate the other player's movements, so that they can get ahead of them before an attack can happen.
Paintball is a sport that requires mental composure and physical agility. In order to be better, you have to practice in real life games. Paintball is a competitive sport, so playing with others will help you improve faster. However, there are some individual drills such as target practice that can help you improve your skills.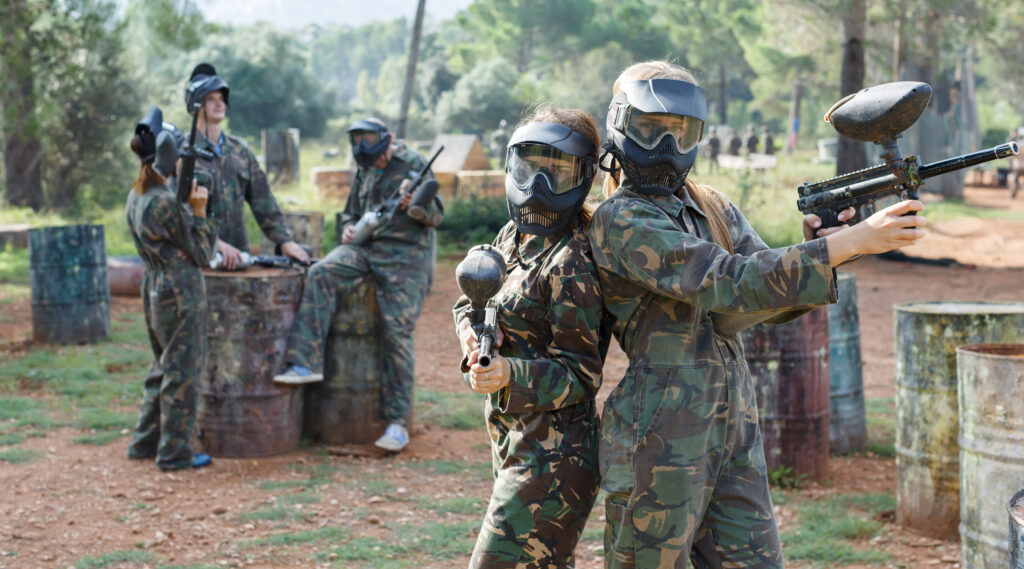 Is Paintballing Suitable For Children?
Paintball is only suitable for people aged 16 years and older. It is a great way to spend time together and have some healthy competition. It is also a great way to get exercise, as paintball games usually last about two hours and require players to walk many kilometres.
Paintball is also relatively inexpensive, which makes it an even better option for families on a budget!
Paintball is a fast-paced and adrenaline-filled activity for all ages. This activity is perfect for families as it can be played outdoors, depending on the weather. It's also a great team building exercise! For younger kids, we have a variety of similar activities such as laser tag. Grab some friends and enjoy a fast-paced day of adventure. It provides entertainment for those who are looking for an adventurous experience, as well as those who want to take it easy and just hang out with friends or family members.
How Do I Prepare For Paintballing?
You will need a few essential items to get you ready that are all provided at Adventure Park. Your basic kit will include a mask, which protects your face and eyes from paintballs. A set of overalls to protect your clothes from the paint and dirt.
You'll also want to have a good pair of gloves on hand, these will protect your hands from feeling sore if they get hurt. No, the paintballs do not hurt for long. When paintballs hit, it feels like a sting when being hit with a wet towel. In some cases, the ball will bounce right off you and especially when you are wearing thick overalls. Layers of clothing provide padding between you and the paintball.
Paintball game safety rules, strategy and tactics are helpful for all, especially for the beginner players. Instruction on how to shoot a paintball gun, how to aim and proper stance is key.
Press the gun against the front of your shoulder like how you hold a rifle or rest the tank on top of your shoulder. Either way is good practice for proper technique.
Holding your gun correctly will help with your balance, aim, and sight. Keep your finger close to the trigger ready to shoot. Holding a gun sideways will NOT give you the aim you need. Face your target with your feet shoulder width apart, pointing in the direction of whom you are trying to hit. A firm stance will allow you to pivot in any direction while keeping your balance.
Paintball At Adventure Park
Paintball at adventure park is action packed and can be tailored to suit your needs. Whether you are on a school tour, on a tour as college students, on a stag/hen trip away, celebrating with family and friends, birthday parties or corporate events, we can cater for it all. We have visits from 100's of groups every year.
Contact us today to plan the perfect event for you.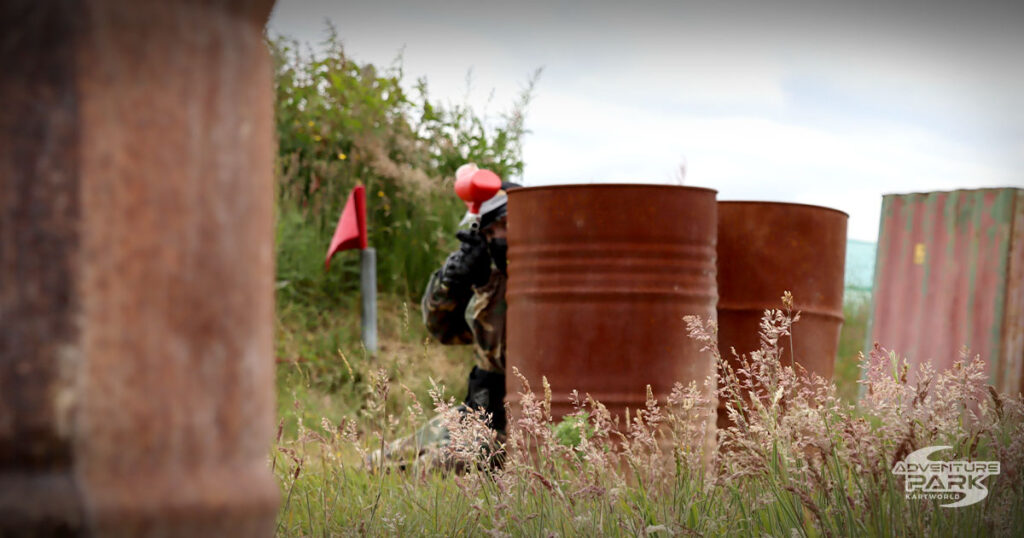 Plan Your Next Day Out At Adventure Park
Adventure Park delivers a one of a kind experience for all ages and can cater for all manner of events. Group events, corporate, school tours, youth clubs to stag do weekends, hen parties and fun filled family days out. You name it, we have it covered.
Our aims have always been to deliver the ultimate adventure experience for all ages to all people and we promise you just that.
Contact us today for bookings.