How To Be The Best Driver In Go-Karting?
Go karts are a great way to have fun with family or friends. They are also an excellent way for children to learn responsibility and independence. At Adventure Park, we have two tracks, one suitable for younger racers and the larger international racetrack.

There are many reasons why you should plan a day out go-karting. One reason is that it's a great way to have fun with your friends and family. Another reason is that it's a good way to get exercise. Go karting can be a competitive sport, but it can also just be for fun. It's also a great way to make new friends, because it's often something that people do in groups. It has been proven to be a successful team building event, as it can create a sense of camaraderie among your employees.

If you are planning a work event, you can be confident that it'll go down as a success. It is an exciting and fast-paced activity that will get the team's adrenaline pumping. It will also help you get in shape while having fun at the same time!
What Is A Go-Kart? Explanation Of Go-Karting Parts and Accessories
A kart is essentially a vehicle with four wheels, a steering wheel and a small engine.
Petrol Karting is the fastest growing motorsport in the world. It has been around for more than 30 years and it is still growing.
This sport is very popular across the world but particularly in Europe, North America, and Australia. The main reason for its popularity is that it is a lot of fun – not to mention an affordable day out!
The history of go kart racing is quite interesting. The sport has evolved over the years to what it is today.
The first go-karts were used in 1894, and they were made out of bicycle wheels and horse carriage frames. They were used for a while until the 1920s when they came back into popularity because of a man named Clarence Gilbert. He was an engineer who designed a go-kart that was powered by a motorcycle engine. This design sparked a new era in the sport and it became more popular than ever before.
The sport was created by Malcolm Campbell who wanted to make a cheap alternative to motor racing. He was able to first achieve this by using lawnmower engines for propulsion which cost about $200 at the time. Nowadays, petrol karts are powered by small four-stroke engines. Many top racing drivers such as Lewis Hamilton and Sebastian Vettel started their careers in karting. So if you have aspirations to enter the sport, get practising and learn everything you can about karting.
Basic Guide On How To Drive A Go-Kart
Everyone will be able to enjoy a day karting, whether or not they have experience driving.
To drive a petrol kart is simple, you need to take care of the following:
-Brakes
-Clutch
-Gas pedal
-Steering wheel
Top Tips For Your First Day Driving A Go-Kart
Here are a few steps to driving a petrol kart. First, you need to put the kart in neutral. Second, you need to turn the gas on. Third, press the clutch and brake pedals at the same time with your right foot. Finally, use your left foot to steer while accelerating with your right foot.
Every kart racer's dream is to be able to drive in a straight line the entire race. But there are some reasons why this doesn't work out for everyone. Brake too much, and your kart will start slowing down really fast. Skid on the road, and you're done for-you won't be able to catch up with the others anymore.
When you're approaching a turn, focus on positioning yourself on the outside of the track. Start applying your brakes just as you're approaching the apex of the turn. Applying this technique will help maximise the amount of time you spend driving in a straight line.
As a karter, it's important to make the decision to brake or not brake before you make a turn. Braking will slow down your vehicle and make it more difficult to make the turn. If you don't brake, your vehicle will travel faster and be easier to steer around the turn. While it might look awesome, drifting can significantly slow you down on the track. It will decrease your momentum. Drifting is commonly caused by braking during a turn. So focus on braking more before a turn. Drifting can also be a sign that you're turning into a corner too sharply. When you're learning how to drive a go-kart, resist the urge to pull off a sharp turn at every corner.
The most important thing to do while racing is to drive. It's very easy to get distracted by rival drivers that can put you off your own rhythm. Focus on perfecting your approach to turns and you'll naturally stay on the road.
Learning how to drive a go-kart for the first time can be an intimidating experience. When you're so low to the ground it feels like you're going twice as fast as normal, and beginners make it harder on themselves by looking only a few metres ahead of where they are. Have a vision and know what is coming up ahead.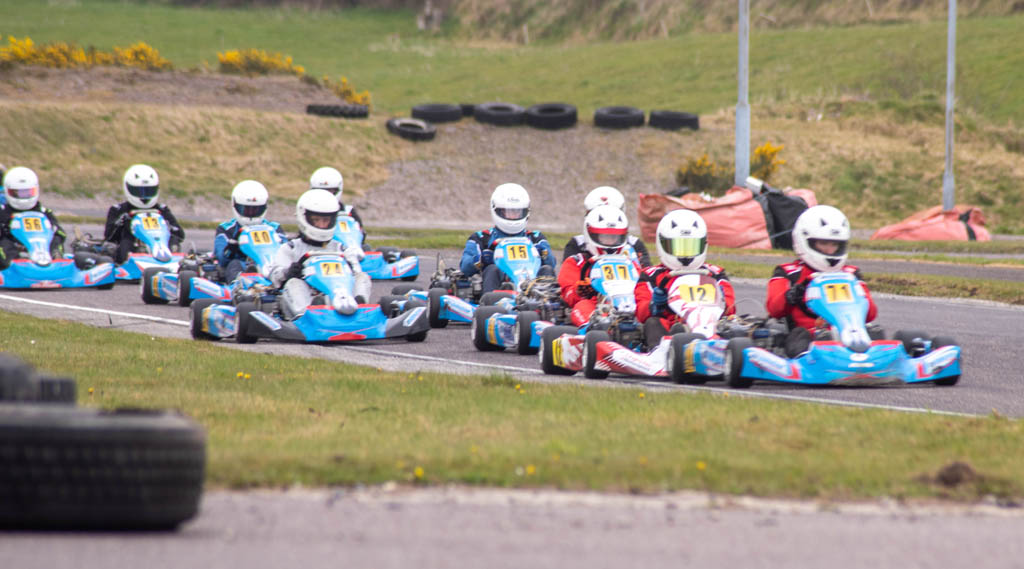 Go-Karting Is Fun For Everyone
Kart Racing is becoming more popular throughout Ireland. A competitive day out is a sure way to get groups talking afterwards. Kart racing is a great way to get introduced into the sport of motorsports. It is affordable, yet it still provides an adrenaline rush and plenty of thrills for small and large groups.
At Adventure Park, we have decades of experience organising the perfect day out Karting. Just give our team a call to discuss the many options we have available.
Plan Your Next Day Out At Adventure Park
Adventure Park delivers a one of a kind experience for all ages and can cater for all manner of events. Group events, corporate, school tours, youth clubs to stag do weekends, hen parties and fun filled family days out. You name it, we have it covered.
Our aims have always been to deliver the ultimate adventure experience for all ages to all people and we promise you just that.
Contact us today for bookings.